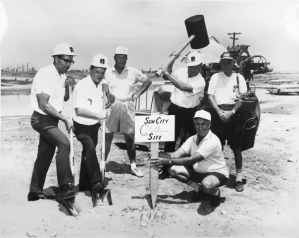 The Sun City Country Club was the first country club Del Webb ever built. Our tree-lined golf course is the grandfather of all country clubs now in existence at numerous Del Webb communities around the country. While Del Webb was a visionary, country clubs were never part of his original plan. But the crisis arose here in his original Sun City: too many golfers and not enough golf courses.
In the early 60's the only golf courses in Sun City were the North and South courses. The local, golf-playing public was up in arms about how hard it was to get a tee time at either facility. Another surprise for Del Webb was that many incoming residents have belonged to private country clubs and enjoy that environment, therefore, the demand for a country club existed. In May of 1964, a group of men got together to form an exploratory committee on how to get a country club built.
Del Webb saw that the country club would be a new, lucrative part of his development formula. He could sell more golf course lots and create another way to draw in retirees.
On November 12, 1965, the Sun City Country Club Board of Directors signed a letter of intent with Del E Webb Development Corporation. The original course and buildings cost less than $800,000 to complete and on March 4, 1967, Sun City Country Club was dedicated. Within six months, all of the available memberships were sold and a waiting list was created. Over the years, Sun City Country Club became a semi-private club and now welcomes all golfers to enjoy the club.